It's another new year and that means new forecasts about trends in aging services. Instead of making my own crystal ball predictions, I examined some trusted sources and digested them for you. Following is my take on 2018, based on the many predictions put forth already: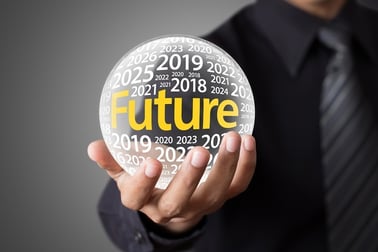 1. Staffing and Workforce Issues
Lisa McCracken, senior vice president of senior living research and development for specialty bank Ziegler, offered her projections for McKnight's Senior Living. She found that while it may not be a surprise that staffing and workforce issues will remain at the forefront of challenges for providers, she believes that skilled nursing and post-acute providers face a "'perfect storm' of an increasing minimum wage, numerous retirements, and evolving staffing requirements due to changes in the resident/patient mix, healthcare reform, and other issues." To address the problem, she cites operators that have created pools of staff members from which they can draw as needed. While this sounds like a modified staffing agency (the chronic use of which is generally frowned upon), they may be onto something. A recently launched company known as CareForce Elite is a staffing firm that caters only to long-term and post-acute care. Founded by two former nursing home CNAs, the company specializes in training their CNAs in geriatrics and long term care. Whether this represents a trend, I am not certain, but it does represent an innovative solution to an age-old challenge.
Also weighing in on workforce concerns in the year ahead was Andy Smith, president and CEO of Brookdale Senior Living, who told Senior Housing News that demand for talented, dedicated employees will keep growing in 2018. "We are in an environment where new jobs are being created and unemployment rates are dropping, so companies will have to step up to improve and communicate about the employee value proposition they offer," he said. "This employee value proposition is not just about the job, the wages or the benefits, but also about the culture, growth opportunities, and the leadership offered."
Doug Leidig, president and CEO of Asbury Communities, also gave a nod to staffing and workforce issues in 2018 with a prediction that companies will offer "creative adjustments and changes in benefits to attract a new workforce."
2. Technology
Surprise, surprise—the continued adoption of technology among senior living operators is also in the forecast—and for good reason. One source suggests that the ubiquity of wearables, watches, gaming consoles, Alexa, Siri, Sonos, Netflix, and other streaming services will require throttling, or intentionally slowing down of community networks, in order to minimize bandwidth congestion on a campus or within a building. The byproduct of this could be tiered pricing of services, a la cable companies, the source suggests. Another factor that could have an impact on such services is the reversal of net-neutrality, as it will bring greater uncertainty around how content is delivered to senior living communities and its residents.
3. Design
Senior Housing News notes that with such dramatic shifts for owners and operators in 2017, skilled nursing is "rebooting" thanks to aging skilled nursing buildings that are motivating owners, operators, and developers to "rethink how to use these obsolete buildings to propel future
growth and adjust strategies for their existing buildings and campuses." While not an earth-shattering discovery, the author believes that "SNF 3.0 may mean repurposing or converting existing nursing homes into assisted living and memory care units."
Another points to new campus developments that are designed and completed without the SNF component "to round out the continuum of care as operators are choosing instead to partner with local skilled nursing and post-acute providers."
Yet another soothsayer envisions that builders and operators will continue to seek innovative alternatives to traditional housing models. According to a Senior Housing News survey, this means units that are getting smaller, not bigger. The end result of this approach is ostensibly more affordability. The examples offered include Benchmark Living's newest community in North Attleboro, Mass., where two resident units share a common space, "creating roommate dwellings the company likens to college suitemates." Another example is Dr. Bill Thomas' Minka project, which is a small, modular home with a universal design. Thomas is promoting Minka as part of his MAGIC approach (multi-ability/multi-generational inclusive communities)—small dwellings that will be constructed at the University of Southern Indiana in Evansville.
4. Dining
It's also not a surprise that innovations in dining have been a major focus for operators across all sectors within the industry, with some believing that it will continue to be a drive for marketing and satisfaction ratings. In my opinion, the takeaway here is that many dining operations are now beginning to mirror their local restaurant counterparts. "No longer is the restaurant-style approach a nice-to-have, it's a need-to-have in order to remain competitive," Senior Housing News reports. In other words, a cheap rip-off of Starbucks will not cut it. That said, the authors cited a CCRC that opened its station-style restaurant to the surrounding community for paid lunches. One assisted living community in California holds its own "Taste of" event each year. "Those who stop by for a sample of the food are motivated to ask where they can get a sit-down meal—and presto!" The idea is that such endeavors can create excellent leads.
Another clever marketing effort is the use of branding as a way to stand out from the crowd. Apparently, some senior living companies are creating house-branded coffee, wine, signature sauces, desserts, and more, thus "inciting pride among residents who enjoy an exclusive and individual experiences."
5. Partnerships and Collaboration
Sean Kelly, president and CEO of the Kendal Corporation, believes that providers will be compelled by market forces to "establish deeper partnerships with hospital systems, institutions of higher learning, and community organizations." He alludes to the importance of fostering communities on or off of a campus "where residents and staff are engaged in meaningful ways with one another and the wider world."
Asbury's Leidig suggested that more and more competitors will take on partnerships. For example, he says, CCRCs "will join together to offer services both on their campuses and outside the walls to reduce duplication of services, create efficiencies, and increase market share." He says he expects much more actual collaboration activity between hospitals and CCRCs, "versus just talking about it."
My own prediction: Innovative intergenerational programs that involve individuals of all ages will explode within the senior living sector, especially in assisted living. As my colleague cites in another post, the most common activities taking place in this sector are "friendly visiting," arts programming, health and wellness activities, oral history/reminiscence interviewing, and language/literacy programs." These are great but there needs to be more substantive and innovative approaches, such as new housing models and new collaborations, to bringing generations today.
If you want a focused approach to staying on top of industry trends that is facilitated by experts in the senior living field, contact Quantum Age today.