Marketing strategies come and go, but it looks like ABM is here to stay, since it has been proven to deliver the highest return on investment of any strategic B2B marketing approach. If you think you haven't been using ABM, you may be surprised to find you are using some aspects of it.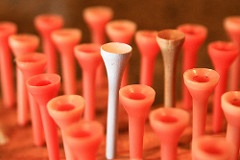 Developed in 2004 by ITSMA (the Information Technology Services Marketing Association), Account-Based Marketing (ABM) turns the traditional inbound marketing funnel upside down for B2B marketing. Traditional marketing consists of attracting as many people to your site to fill out forms, nurture them with emails, and then identify which of those leads are potential companies to target.
There are two different scenarios where ABM is appropriate:
When you're targeting a small amount of large key accounts

When you're targeting groups of accounts that share similar characteristics
The high level overview of ABM includes the following steps:
1. Identify Target Accounts
Sales and marketing works together (yes, together) to identify their targeted companies, or the characteristics of their targeted companies. Examples include company size, annual revenue, financial strength, business strategies, organizational structure and more. To determine these companies and characteristics, evaluate your profitable satisfied customers in your existing base. From there, leverage your CRM, other technology and market research to identify your target accounts.
2. Identify Personas
Once the targeted accounts are identified, sales and marketing again collaborate to determine what role the decision makers, influencers and blockers typically hold in the organization. They develop those personas to find their pain points, typical demographics, what factors drive them, and methods to effectively reach them with your message.
3. Develop a Personalized Engagement Plan
Some marketers refer to this step as "Develop Engaging Content." However, taking into account how different personas make purchasing decisions, content may not be enough. For example, an IT director may take time to read a white paper or eBook, but don't assume the same for the C-level persona. This is where learning how to effectively reach the target personas comes in. In addition to personalized content, consider adding face-to-face opportunities, such as social and informative events.
Several decision makers place high value on developing trusting, personal relationships with their sales representative, who they want to see as a consultant. These relationships may take several months or longer when selling products or services with long sales cycles.
Develop key metrics and your expected goals for each content asset, campaign, event, social media strategy, etc.
4. Measure, Analyze, Adjust
In order to prove the value of your ABM strategy, you need to be able to measure it over time. Results should be visible and actionable. Compare KPIs such as email clicks, opens, MQLs, SQLs, opportunities created and new business won against previous campaigns, and determine the marketing ROI.
Create dashboards and reports in your CRM to analyze the activity on your target accounts, and compare results to your goals.
While ABM strategy is not new, it is becoming more expected from customers who want a personalized and engaged buyer journey. Understanding their influence level and engaging them across the entire sales cycle does not take a huge investment but can mean increased revenue and a solid partnership with customers.
Contact us
to learn how Quantum Age can help create and implement an ABM strategy that pays big dividends for years to come.