We all know by now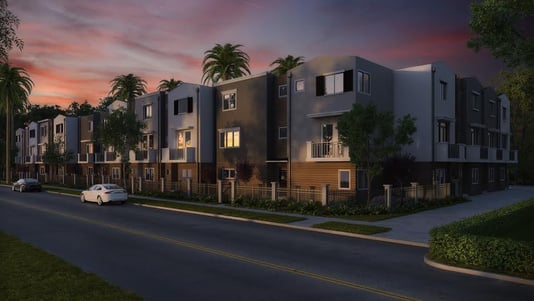 that the next two decades will bring on a surge of older adults—to the tune of nearly 79 million people over the age of 65 in the United States alone. But did you know that only 1 percent of the current U.S. housing stock offers the five design elements that would allow older adults to live comfortably? Yes, that's 1 percent of homes that have zero-step entrances, single-floor designs, wide halls and doorways, electrical controls reachable from a wheelchair, and lever-style handles on faucets and doors, according to recently released study by Harvard University.
In other words, current available housing will not be sufficient to accommodate the aging Baby Boomer population over the next 20 years. With one in three households headed by someone over 65, more people will need to invest in accessible homes with modifications and improvements, but only a small percentage of homes offer those conveniences.
If ever there were an opportunity for enterprising and innovative aging services mavens to jump into the longevity economy, I would say this is it.
According to Chris Herbert, managing director of the Harvard Joint Center for Housing Studies, "the housing implications are many, and innovative approaches to respond to growing needs for housing that is affordable, accessible and linked to supportive services will grow exponentially over the next two decades."
The study, titled "Projections and Implications for Housing a Growing Population: Older Adults 2015-2035," also notes that "public investment and private sector efforts to expand access to affordable in-home supportive services will be critical going forward."
Promising pilot and small-scale programs exist, such as changes to government health insurance programs to cover the cost of in-home care, home modifications, or supportive services to remain in the community, the study notes. But the report warns that the challenge going forward will be to bring successful demonstrations to scale.
Here's something else you may not know: By 2035, 27 million older adults will earn less than 80 percent of the median income in their area—up from 15 million in 2015. The number of households that own or rent and are severely cost-burdened—defined as paying more than half of income on housing costs—will more than double, according to the report.
Indeed, there are things that the government and the private market can do to prepare for and contribute to resolving these problems. In addition to creating more affordable and accessible housing options, the study recommends offering more assistance to older Americans who are burdened by the cost of housing, increasing subsidies to older renters, and more frequently integrating housing and health care.
It may not seem as glamorous as an HGTV reno show, but now is a perfect time for innovation, design, and aging enablement to come together to resolve the impending housing crisis. Creating and retrofitting homes that are age-friendly is now critical, so I would recommend that my aging services colleagues—as well as intrigued outsiders—take the opportunity now to learn more about it.