The Five-Star Quality Rating System is getting lots of attention these days. Not only did CMS announce that the six new quality measures have been officially added to the rating system, but the program has also drawn criticism from a U.S. senator. According to an Aug. 10, McKnight's news story, Sen. Robert Casey (D-Pa.)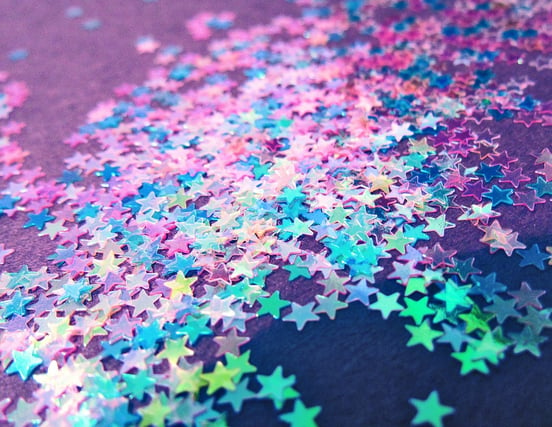 believes that while "the updated measures give prospective nursing home residents and their families more information when choosing a facility, they do little to 'impact the accuracy and reliability of the measures reported.'"
No matter what one thinks about Five-Star, it's certainly not expected to go away anytime soon. And according to American Health Care Association Senior Vice President for Quality and Regulatory Affairs David Gifford, MD, MPH, the new quality measures will have a modest impact on overall five-star ratings for nursing homes.
However, Gifford, who presented at the eHDS/Ability user group conference in Chicago earlier this summer, explained that the impact on individual quality measures for nursing homes will be more pronounced.
In light of this news, I feel obligated to share Gifford's compelling presentation about how the staffing measures—as well as the overall stars—will be calculated. Here's a synopsis:
Staffing Measures: Using a matrix on the staffing measures (see graphic below), Gifford explained that the measure is calculated by combining registered nurse (RN) and direct care staff hours.

Each row of the matrix contains the RN hours for each patient day, and each column includes the total direct care staff hours per patient day.

Nursing homes with scores that appear in upper-left red box will lose a star, while those that fall within the lower red box area will gain a star.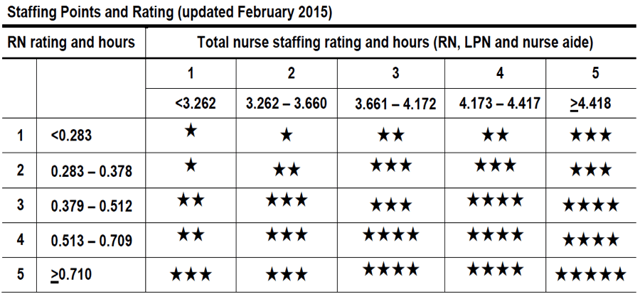 Gifford explained that CMS has established threshold rates for each measure to determine the points for that measure. "They don't change those rates," he said. "They've stayed fixed since February 2015."
With regard to staffing scores that fall within the one-star ranges, Gifford believes that one major reason why a nursing home gets there is its location. If it's in Texas, for example, the Medicaid reimbursement is "really bad" there and staffing numbers will be low as a result, he said.
The other reason for low staffing scores is related to Form 671–Long Term Care Facility Application for Medicare and Medicaid. "When surveyors coming in and yell at you for obstruction of justice for not filling out Form 671, your staff will, of course, fill it out and hand to the administrator, who will sign it," he explained. "The problem with this is that no one is likely to check the staffing numbers on it. If that's the case, unfortunately, there is no way to change it," and it becomes part of the nursing home's record. "There is no changing it," Gifford said. "I've never seen it changed in 10 years."
Finally, don't forget that starting in 2018, CMS will use data submitted from your time and attendance systems into CMS Mandatory Payroll-Based Journal (PBJ) to report staffing levels and turnover and retention.
Overall Star Ratings: Calculate your overall five-star rating as follows:

Assign 20, 40, 60, 80, or 100 points for each quality measure based on the quality measure rate against a set of threshold cut-points.

Add up the points for all 11 quality measures.

Compare your aggregate score of the 11 quality measures against the threshold cut-points to determine your stars (see graphic below).

All the points will be added together to come up with the final five-star rating, and since there are 11 measures currently, 1,100 is maximum number of points you can get, Gifford reported, while 225 is the minimum number (see graphic 2). "When adding the five measures to the eleven they do roughly the same thing," he notes. "So there will 16 measures, so your score will be between zero and 1,600."
If you calculate 760 points out of 1,100, you will get five stars. "So the magic number is 760," said Gifford. "If you're less than 544 you'll get one star, and you will lose a star. Everywhere else, there will be no impact."
Gifford emphasized that the biggest impact of the new measures is "the fact that the measures will be used by hospitals and ACOs for network selection."
Half of nursing homes will see their individual quality measures star ratings change at some level, and half of those will go up, while the other half will likely go down, Gifford noted. "The impact on overall star rating will be a lot less, with about 15 to 20 percent seeing changes in their overall star ratings."
In conclusion, Gifford said that CMS will likely make changes to Five-Star again in a few years. For example, in 2018 staff turnover will be added. In addition, CMS will, at some point, add SNF Quality Reporting Program (QRP) measures, resident review measures, and measures on functional improvement.
Gifford noted as well that customer satisfaction measures will likely be added in about four years.
Keeping those stars aligned will help you stay on track with the news measures