By now you've likely heard there is evidence that harboring negative attitudes about aging and older adults is bad for your health. In fact, a 2016 World Values Survey found that 60 percent of its respondents felt that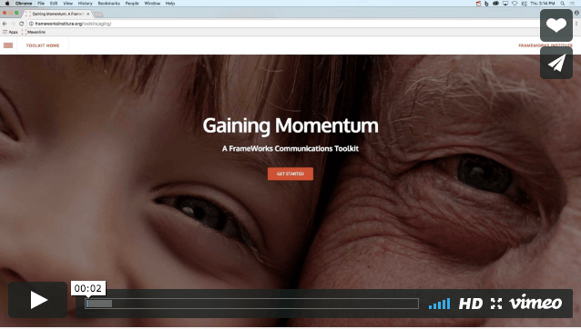 older people are not respected. More than 83,000 people in 57 countries took part in the survey, which assessed attitudes to older people across all age groups. Interestingly (and sadly), the lowest levels of respect were reported in high-income countries.
This is just one of many sources that cite the presence of ageism and prejudice about older adults in our culture. And given that the demographic make-up of most of the world is becoming older and older, the impact of this kind of discrimination is destined to get worse, unless someone takes the lead in an effort to change it.
Which is where we, as aging services professionals, come in. Why should we take the lead? Well, there's the obvious reason: ageism impacts the health and wellbeing of older adults—which it's our business to protect.
To that end, a group of aging advocacy organizations, in collaboration with the Frameworks Institute, has created an excellent set of resources aimed at helping "advocates drive a more productive narrative about how to capture the benefits of an increase in the average lifespan."
The Frameworks Institute set out to answer this question: How can the field of aging help build a better understanding of aging, ageism, and what will it take to create a more age-integrated society? To get the answer, the institute collaborated with a number of national aging organizations to conduct an "empirical investigation into the communications aspect of aging issues."
Among other things, they conducted a Strategic Frame Analysis®—an investigation that combines theory and methods from different social science disciplines to arrive at reliable, research-based recommendations for reframing a social issue. They sought "expert consensus" from aging researchers, reviewed academic and advocacy literature, and interviewed members of the public and analyzed the transcripts to identify the
"implicit, shared understandings, and assumptions that structured public opinion."
The toolkit offers the original research, evidence-based insights from it, and a "variety of materials to help you apply it." The authors of the toolkit advise that while you won't find ready-to-print "turnkey" handouts, it does include examples and guidelines that "help you work more intentionally and strategically to advance the conversation about older people in the United States."
The Frameworks Institute research report includes the following four parts:
Anticipating Public Thinking outlines how Americans mentally model aging and related issues, and it pinpoints where these patterns of thinking are likely to challenge efforts to advance an informed public conversation.
Communication Traps cautions advocates against reframing strategies that seem plausible but are likely to have unintended consequences.
Redirections outlines a series of thoroughly tested communications tools and techniques for reframing aging and ageism.
Moving Forward offers concluding thoughts and a call to action.
The authors come to the conclusion that sharing and telling a common story is part of what it takes for a movement to drive major and meaningful social change.
If you would like a focused approach to taking the lead on reframing aging, facilitated by experts in the field, contact Quantum Age today.