Fall show season in the long-term and post-acute care industry has come to a close. As someone who has diligently attended many aging services-related conferences over the last 20 or so years, I can report that one stood out among the usual suspects this year—the Aging 2.0 OPTIMIZE conference.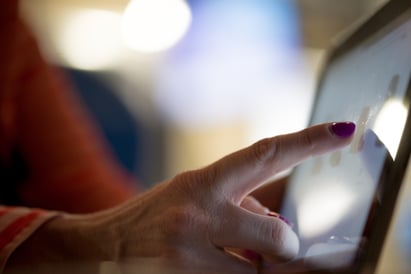 In fact, I had anticipated the conference for some time, having heard about it from colleagues and given its promise to marry innovation and aging. For the most part, it did not disappoint: there were many new and enthusiastic entrepreneurs eager to show off their innovations and win over investors and customers. With about 900 attendees, the feeling of the conference was energetic, perhaps because many of those in attendance were relative newcomers to our relatively small aging services ecosystem.
Unfortunately, too many of the exhibitors—all of whom I'm sure have good intentions—had made what I believe were incorrect assumptions about what or how their inventions would aid older adults. In some instances the name of a gadget or software platform was condescending, ageist even. In one example, a service for elders and their families seemed to make an assumption that the users would have positive reactions to a robotic, Siri-like voice making phone calls to them. In another, a "simplified" tablet would make technology accessible easy for old people (those 50+). Being a member of that demographic, I wasn't clear what problem this solved for me (I love my tablet).
For the uninitiated, Aging 2.0 is a San Francisco-based organization that "connects, educates and supports innovators through community, events, startup programs, and content." You may be familiar with the local Aging 2.0 chapters that host pitch events for senior facing startup companies in search of investors.
On display in the main meeting room of OPTIMIZE were some 60 exhibitors. The majority of them were in a startup phase, hoping to attract funding for their innovations.
Some highlights of the conference for me:
UZURV: A transportation reservation services app "created to enhance the on-demand riding and driving experience." The app works in conjunction with existing on-demand transportation services like Uber and Lyft, allowing riders to make advanced reservations with the driver of their choice. The company was at Aging 2.0 seeking capital to expand its services into the senior living niche. The appeal to riders is that it's customizable—the user can filter drivers in a variety of ways: by vehicle, amenities and special services; by driver profiles; and by sending requests to favorite drivers they know and trust. In doing so, the company hopes to appeal to elders and their caregivers because it "improves the quality, safety, and accessibility of on-demand transportation."

My take on it: Since UZURV is already in 60 or so cities it's a no-brainer to make the expansion into senior living, although rollout strategy will be extremely important. However, the company will have to work with Lyft and Uber, which could present some challenges.

FibriCheck: Created by a Belgium-based company, FibriCheck is a screening and monitoring software that detects arrhythmias in patients. Whenever a patient feels symptoms, FibriCheck can immediately record the heart rhythm using their phone camera function, which is the coolest thing about the technology—it requires only an index finger on the smartphone camera.

My take on it: It's incredibly user-friendly. What's not to like about its simplicity? It has already been deployed in Belgium but the technology could face some challenges getting into the U.S. market. Of note: FibriCheck was also the conference's Audience Choice winner.

Cariloop: A service that provides comprehensive "coaching" via phone or video chat for loved ones of older adults whose lives been turned upside down by an event that requires myriad medical, legal, and financial assistance. The company also organizes medical records and other important information into a secure portal that allows for "easy storage of important files and ongoing collaboration" with a coach.

My take on it: Since Cariloop contracts with companies to benefit their employees, their services are sort of like having an employee assistance plan and a geriatric care manager all rolled into one. I like this no-wrong-door approach.
There were a number of other innovative and clever creations that I'm sure will be successful in the longevity economy. But for those that don't have a handle on what elders really need and want, I hope they will consider spending more time with elders and designing with them—not just for them.