Ever since social media platforms took over our lives, they have moved forward with a continuous evolution. In the beginning, long-term and post-acute care (LTPAC) providers just posted marketing content and crossed their fingers. Today each platform offers a range of strategic marketing tools to help businesses promote their products, services, and brands, while also helping to attract prospects and customers.
Here are some of the many ways that the big three leading social media platforms — Facebook, Twitter, and LinkedIn — have advanced their marketing opportunities over the years.
Facebook — Leading Social Media Platform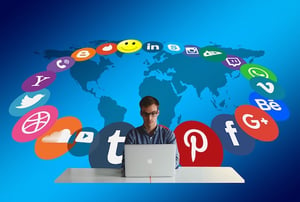 Facebook continues to be the reigning champ of social media sites. More than just a meeting place for friends, Facebook has grown into a venue for businesses to market themselves through interaction with customers and self-promotion. In 2016, over 93% of marketers were using Facebook to promote their companies. It's become the platform of choice for LTPAC solution providers that want to showcase their technology expertise, for example.
Here are just some of the many ways marketers are using Facebook to promote their businesses and brands today.
Business Pages: These pages let businesses identify themselves, not just through listing product offerings and services, but also by sharing links, images, and posts on a customizable page.
Classic Ads: Facebook offers its own form of advertising with Facebook ads (also called Marketplace Ads), which appear in the side columns. They include text, images, and click-through links.
Promoted Posts: These let page owners pay a flat rate to have their individual Facebook posts reach a certain number of users, thereby, increasing a post's reach and impressions.
Sponsored Stories: These are a type of Facebook ad that shows a user's interactions, such as a Facebook "like." They seek to capitalize on the word of mouth marketing concept.
Facebook Exchange (FBX): This tool lets advertisers take advantage of ad retargeting through real-time bidding. Advertisers can target audiences based on their web history data.
Twitter — Highest Number of Users
As one of the main social media platforms in number of users, Twitter is highly leveraged by ma
rketers. In 2016, about 76% of marketers worldwide started using Twitter to market their business. It's an ideal platform for LTPAC solution providers to engage industry-related conversations.
Here are just some of the many ways marketers are using Twitter to promote their businesses and brands today.
Ads Campaigns: Twitter Ads let you build a tailored campaign around your goals, audiences, and budget to promote Tweets, drive traffic to your website, and attract new account followers.
Promote Mode: This monthly subscription service automatically promotes your company's tweets with the aim of attracting a larger audience each month.
Ads for Agencies: This tool allows agencies to create, manage, and realize the best results out of multiple campaigns using dedicated Twitter support and resources.
Twitter Cards: Allows companies to attach rich photos, videos, and media experiences to Tweets, which help drive traffic to a website.
Twitter Lists: These are a curated group of Twitter accounts. You can create your own lists or subscribe to lists created by others to reach highly targeted groups in the LTPAC segment.
Twitter Chat (Tweetchat): A scheduled, organized topical conversation on Twitter centralized around a specific hashtag, which provides a way to acquire more followers.
LinkedIn — All Business All the Time
With over 562 million users, LinkedIn is all about building networks and connections, increasingly through promotions. In fact, over 91% of marketing executives list LinkedIn as the top place to find quality content. Also, LinkedIn makes up more than 50% of all social traffic to B2B websites and blogs.
Here are just some of the many ways marketers are using LinkedIn to promote their businesses and brands today.
Company Pages: Pages help others learn more about your business, brand, products and services, and job opportunities using your unique URL.
Showcase Pages: These function like sub-domains of your company page, allowing you to spotlight specific areas of your business, such as your quality scores, your antibiotic resistance program or other ongoing initiatives.
Sponsored Content: The content appears in the feeds of LinkedIn members who follow your company, and may also be shown to members who fit your audience criteria.
Ad Campaigns: LinkedIn offers two advertising options: self-service ads and managed campaigns. Both options let you target a unique audience among the site's members by job title, function, industry, and more.
Sales Navigator: An advanced sales tool that aids sales teams, organizations, and individuals in building and nurturing customer relationships.
While Facebook, Twitter, and LinkedIn began as simplistic social media platforms, today they are anything but. Now they offer marketers an array of sophisticated opportunities to promote their services, products, and brands. Such promotion takes time and effort. Social media is no longer just a "five-minute job." But executing a consistent, well managed social plan will help you achieve your marketing and sales goals.