Embracing new media formats and communications platforms is smart, but abandoning traditional media relations altogether can carry big risks.
The Washington Post columnist Steven Pearlstein explored the shifting corporate views on media relations and reporters. When he and other business reporters contact companies to write profiles about the company or the company's industry, they are often rebuffed, Pearlstein notes in the column, "'No comment': The Death of Business Reporting". Sometimes the corporate communications director simply responds that the company's executives are too busy to be interviewed for the article.
"Such is the sorry state of corporate media relations these days," Pearlstein writes. "Even the prospect of a positive story can't crack open the door to the executive suite."
There are two reasons for this new approach by corporate communications departments, suggests Alan Murray, head of Fortune magazine, in the Post article: "One, they don't trust us. And, two, they don't need us."
The reference to "trust" is a reflection of what is happening in politics and the media. The reference to "need" relates to the increasing reliance on "owned media" – such as websites, Internet search engines and social media – instead of "earned media." Pearlstein cites a Corporate Executive Board study that reported corporate communications officers no longer report to the chief executive; they report to the head of marketing or the chief financial officer—a telltale shift.
Even public relations agency guru Richard Edelman promotes the need for corporations to "set up corporate news operations to communicate directly to employees, customers, investors and the public," Pearlstein notes.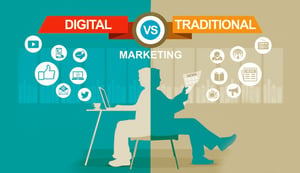 Savvy companies employ several strategies to leverage today's media forms without losing the value of traditional media relations.
· Adapt to the many and varied types of new media to convey corporate messages to internal audiences like employees and investors, customer audiences and consumer audiences. Websites, social media and search engine optimization (SEO) all have a role in a company's "toolbox" of communications strategies.
· Focus on messaging and content—they're still paramount. Not too many years ago, companies could adequately convey their messages with a press release or a media interview. However, the whole media world has changed. Effective communications now necessitates a strategy that focuses on website postings, Tweets, Facebook postings and LinkedIn articles. But it's not that easy: the same message that was disseminated a few years ago in a two-page press release cannot be as easily conveyed in a 280-character Tweet or a two-paragraph Facebook post.
· Don't ditch traditional media relations. Pearlstein talked with some corporate executives wh
o said they fear negative stories, so they believe it is too risky to engage with reporters. One executive told Pearlstein "What [company executives] don't realize is that by not responding, by not engaging, that is communicating a message that [the media is] not worth their time. And when the time comes that they need the media to explain something important and complex, they will have no credibility."
As an agency focused on healthcare and aging services, Quantum Age is uniquely positioned to help companies adapt to many types of media, develop quality messaging and content and create a media relations strategy. Please contact Quantum Age for more information.