In two recent blog posts , I reported the results of a study by a large trade association of its corporate partners. Interviews with corporate partners revealed that the companies expected three value propositions from the association: positioning as a knowledge leader; business development opportunities, and brand differentiation. The previous blog posts addressed how companies can be positioned as knowledge leaders and how companies can obtain business development opportunities with associations.
How does a company—especially a company that is a corporate sponsor or partner with an association—achieve brand differentiation?
The first step is to identify the brand identify or differentiation you'd like to achieve. What might the association's members misunderstand or misperceive about your company? What would you like the association's members to know and say about your company?
Second, how do you differentiate your company from your competition? What is your company's "edge"?
Third, identify your company's biggest challenges in getting the message about your company's brand identity to members of the association.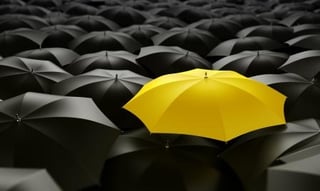 Approach your contact on the staff of each association your company supports and ask about opportunities to assert brand differentiation:
1. Establish your company's brand on the association's
website and other digital media. Ask if the association will create a presence for your company to recognize your expertise and products/services for members. Consider including a video about the solutions your company offers to members.
2. Gain brand visibility among attendees at the association's conferences. Ask if there are any special activities, events, or features at the conference that your company can brand or co-brand with the association. Are there are opportunities to introduce a general session speaker or moderate education sessions? Perhaps your company can sponsor the conference app, charging stations, entertainment, coffee break, fitness/wellness activity, name badge lanyards, shuttle buses, or wi-fi service. It will be beneficial if you can customize the opportunity—for example providing coffee cup sleeves including your company's logo at the coffee break. Or connect the opportunity to your company's services, such as a healthcare company sponsoring the fitness/wellness activity.
3. Seek ongoing brand visibility among the association's members. Ask if any naming rights are available, for example, a conference room in the association's office, an annual award might include your brand's name, or a new initiative might be available for cobranding.
4. Dominate in established resources. If the association has a business directory, ask about enhanced listing or preferred online search result placement to focus more attention on your company.
5. Gain visibility through recognition. Identify award programs that might be a fit for the nomination of your company. Ask the association to nominate you, or perhaps your company and the association can submit an award nomination together for a joint project.
Remember, brand building starts at home: Consider what your company can do with its existing resources to gain recognition for your support of an association. For example, include information about your support of and collaboration with the association on your company website and in your communications with your customers or clients. If there is an approved seal, incorporate it into your materials. If you have a showroom or meeting room that is frequented by customers or clients, post a sign noting your proud support of the association. Ensure that customers and prospects affiliated with an association are aware of your support. It can be an influencer when it comes time to select you over your competition.
If you would like more information on how your company can position itself to achieve your brand differentiation goals with associations and their members, please contact Quantum Age today.
To learn more about the benefits of partnering with associations, read:[6 Ways to Achieve your Business Development Goals with Membership and Trade Associations]
#1 Knowledge Leader
#2 Business Development